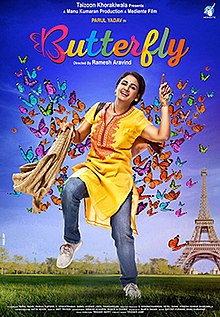 "Butterfly" is Kannada Comedy Drama Film and it is a remake of the 2014 Hindi film Queen by Vikas Bahl.
Produced by Manu Kumaran,
Starring: Parul Yadav
Screenplay & Director: Ramesh Aravind
Presenter: Taizoon Khorakiwala
Co-Producer: Parul Yadav
Music Composer: Amit Trivedi
Banner: Mediente Films
Editor: Satchit Puranik & Manu Kumaran
DOP: Satya Hegde
Dialogues: Mamta Sagar & Ramesh Aravind
Synopsis: Parvati (Parul Yadav), a sheltered under-confident girl from Gokarna, a small town in Karnataka, is dumped a day before her wedding. Shocked, she decides to go ahead with her honeymoon, alone. As she travels the world and meets new people, she gains new experiences and discovers her own identity.