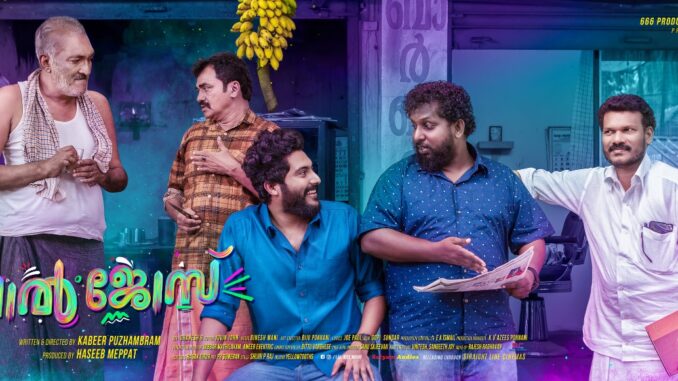 Director: Kabeer Puzhambram
Producer : Haseeb meppat
Dop : Danesh R
Editor : Jovin John
BGM : Gopi Sundar
Chief Associate director : Sanu Sajeevan
Associate Directors : Vintesh, Sangeeth Joy
Music : Binesh Mani
Lyrics : Joe Paul
ART Director : Biju Ponnani
Production Controller : E A esamil
Finance Controller: Bittu varghese
Costumer : Rasak Tirur
Makeup : Rajesh Raghavan
Stills : Shijin P Raj
Pro : Sumeran, Manju Gopinath
Production Manager : K V Azees ponani
Production Executive : Jabbar Mathilakam, Ameer Eventric
Design : Yellow Tooth
Lal Jose (Malayalam Movie Review): The story of a young man who loves cinema
Lal Jose has Tiktok star Mohammad Sharik in the lead role. Ann Andrea is the heroine and Bhagat Manuel, Jensen, Kalabhavan Haneef, Shashi Kalinga and Riza Bava are also playing important roles.
The protagonist is a fan of Director Lal Jose's films and is living with the desire to direct a film like him. At a very young age, the desire to become a film maker has caught his attention. But during the journey, Nandu struggles so hard as the financial situation at his family was not so healthy. He had a mother who works for the family's living, also a younger sister who's also a patient who struggles to earn money for her medical expenses.
While trying to get his place, Nandu meets Nithya with whom he falls in love. But Nithya ignores him as she had misunderstood Nandu while he was trying to be a mediator for his friend's love. While struggling to find an investor/producer for the movie, Nandu gets in to a trap of a person who promised to find him a producer and took some money from Nandu. That money was kept for his sister's operation. But the man looted Nandu's money and left him half way. The struggle he faces for his dream come true is the crux of the story.
The film also have good amount of romance and comedy. 'Lal Jose' is a very inspiring and emotional film for those who love movies and want to make a movie. The film manages to capture some of the emotional moments of the film through its excellent storytelling. It ends with a good climax.
The song sung by Sid Shriram in the film is a very beautiful one. The cinematography of Dhanesh Rabindranath is good. Background music by Gopi Sunder elevates the scenes. Lal Jose is a good movie to watch with family.