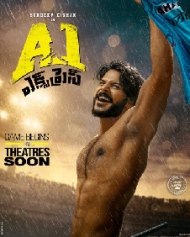 A1 Express – Telugu sports comedy film
Directed by Dennis Jeevan Kanukolanu
Starring: Sundeep Kishan and Lavanya Tripathi , Murali Sharma and Rao Ramesh
Producers: T. G. Vishwa Prasad, Abhishek Agarwal, Sundeep Kishan, Daya Pannem
Co-Producer: Vivek Kuchibhotla
Music: Hiphop Tamizha
Creative Head : Aswin Raam
Cinematography: Kavin Raj D.F. Tech
Editor : Chota. K. Prasad
Production Designer : Faisal Ali Khan
Stunt: Venkat
Dance Choreography: Shekar, Sathish Krishnan
Costume Designer: Harman Kaur
Stylist: Pandu
Designs: Ananth Kancherla
Promo Cut: Ravi
Co Director: Naga Nandini Puli
Chief Assistant Directors: Chiti, Sai Hemanth
Executive Producers: Siva Cherry, Seetaram, Divya Vijay, Mayank Singhania
DI studio: Getin Dream Studios (Trailer)
DI Colorist: Naveen PA
SFX – Oxygen
Sound mixing- Anandh. G
Cg -Knack Studios & Fix It
Audio Label: Think Music
Rating: 5* – Out Standing, 4.5* Very Very Good, 4* Very Good, 3.5* Good, 3* Above Average , 2.5* Average, 2* Below average, 1* Poor.