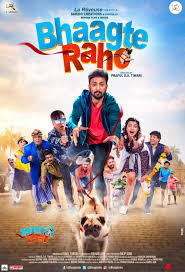 "Bhaagte Raho" Hindi (Bollywood) Comedy Film Released. 
Starring:  – Rajpal Yadav, Riya Deepsi, Abhay Kabir Raichand, Gopi Bhalla, Shekhar Shukla, Dinesh Hingoo, Mukesh Khanna & supporting cast.
Producer – Sunil Tiwari
Co Producer – Rikhab Jain
Directed by – Praful D.S. Tiwari
Line Producer – Dilip Soni
Associate Producers – Deepak Saini & Bhupendra Gour
Executive Producer – Avdhesh Yadav
Written by – Praful D.S. Tiwari
Music Director – Hyperbol
DOP – Shanti Bhushan Roy
Editor – Santosh Kumar Arya
Background Score – Anamik Chauhan
Business & Marketing Head – Rakesh Sabharwal
Marketing Consultant – Devansh Tiwari
Post Production Head – Yuvraj Shukla
PRO – Himanshu Jhunjhunwala
Synopsis: 
A dog can make the world run behind him. How life of an innocent ex-military cook who has not only burnt food but his dreams as well, takes twist and turns with the vision of making his own army, takes the audience on laughter ride. Entangled with unconditional term to achieve his love, he is in search of key to unlock his destiny. Apparently that key has been eaten by a dog.