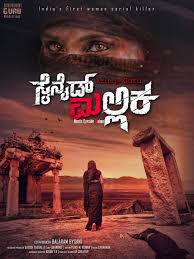 Cyanide Mallika – Upcoming Thriller Film , Inspired by the spine-chilling story of KD Kempamma alias Cyanide Mallika, India's first woman serial killer.
Writer & Drirector : Guru
Starring: Guru , Sanjana Prakash
Co- Producer : Balaram Bysani
Executive Producer : Satish Taggalli
DoP: Shankar
Editor : Vijay MKumar,
Music: Saravana
Cyanide Mallika is a Kannada movie inspired by the true story of India's first woman serial killer. Sanjana Prakash is playing the role of Cyanide Mallika. This movie also depicts the story of another notorious serial killer known as cyanide Mohan. When two cold-blooded serial killers meet , can you imagine the end result?