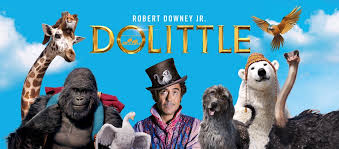 Dolittle (U) English Fantasy/Adventure Film , Duration 1h 41m
Director: Stephen Gaghan
Based on: Doctor Dolittle; by: Hugh Lofting
Budget: 17.5 crores USD
Producers: Susan Downey, Joe Roth
DescriptionDr. John Dolittle lives in solitude behind the high walls of his lush manor in 19th-century England. His only companionship comes from an array of exotic animals that he speaks to on a daily basis. But when young Queen Victoria becomes gravely ill, the eccentric doctor and his furry friends embark on an epic adventure to a mythical island to find the cure.