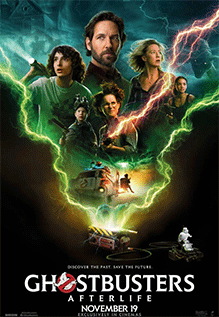 Ghostbusters: Afterlife (U/A) Action Fantasy Film – Released on 19 Nov, 2021 – Duration 2 hr 4 Min
From director Jason Reitman and producer Ivan Reitman, comes the next chapter in the original Ghostbusters universe. In Ghostbusters: Afterlife, when a single mom and her two kids arrive in a small town, they begin to discover their connection to the original ghostbusters and the secret legacy their grandfather left behind. The film is written by Jason Reitman & Gil Kenan.
Directed by: Jason Reitman
Written by: Gil Kenan & Jason Reitman
Based on the 1984 film "Ghostbusters"
An Ivan Reitman film written by Dan Aykroyd and Harold Ramis
Produced by: Ivan Reitman
Executive Producers:
Dan Aykroyd
Gil Kenan
Jason Blumenfeld
Michael Beugg
Cast: Carrie Coon, Finn Wolfhard, Mckenna Grace, and Paul Rudd
Rating: 5* – Out Standing, 4.5* Very Very Good, 4* Very Good, 3.5* Good, 3* Above Average , 2.5* Average, 2* Below average, 1* Poor.