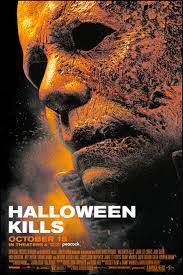 Halloween Kills (A) 2021 Horror/Thriller Duration: 1h 45m
The nightmare isn't over as unstoppable killer Michael Myers escapes from Laurie Strode's trap to continue his ritual bloodbath. Injured and taken to the hospital, Laurie fights through the pain as she inspires residents of Haddonfield, Ill., to rise up against Myers. Taking matters into their own h… MORE
Director: David Gordon Green
Music by: John Carpenter; Cody Carpenter; Daniel Davies;
Produced by: Malek Akkad; Jason Blum; Bill Block
Production companies: Miramax; Blumhouse Productions; Trancas International Pictures; Rough House Productions
Based on: Characters; by: John Carpenter; Debra Hill
Rating: 5* – Out Standing, 4.5* Very Very Good, 4* Very Good, 3.5* Good, 3* Above Average , 2.5* Average, 2* Below average, 1* Poor.