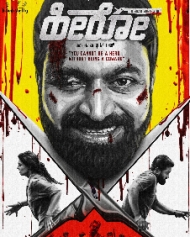 .
HERO – Kannada Action Comedy Film
Directed By M Bharath Raj
Produced By Rishab Shetty;
Cast: Rishab Shetty, Ganavi Laxman, Pramod Shetty, Manjunath Gowda and others.
Directed By: M Bharath Raj
Produced By: Rishab Shetty
Distribution By: Jayanna Films
Writers: M Bharath Raj and Anirudh Mahesh
Co Written By: Nithesh Nanjundaradhya, Trilok Trivikrama and Rishab Shetty
Production House: Rishab Shetty Films
Music: B Ajaneesh Loknath
DOP: Arvind S Kashyap
Editor: Pratheek Shetty
Stunts Choreography: Vikram Mor and Rishab Shetty
Costume Designer: Pragathi Rishab Shetty
Makeup: C R Vinay
Publicity Design: Kaani Studio
Executive Producer: Pramod Shetty and Suhas Shetty (Assistant)
Production Design: Dharani Gange Putra and Manjunath Gowda
Production Managers: Shashidhara B and Rajesh Shivalingappa
VFX Studio: Digital Turbo Media
VFX Supervisors: Lavan and Kushan
DI Studio: Lal Media Arts
Colorist: Remesh CP
Sound Design Studio: Four Frames Sound Company
Rating: 5* – Out Standing, 4.5* Very Very Good, 4* Very Good, 3.5* Good, 3* Above Average , 2.5* Average, 2* Below average, 1* Poor.