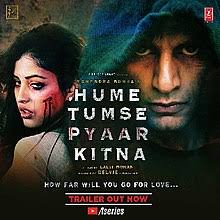 "Hume Tumse Pyaar Kitna" romantic thriller film in Hindi
Produced by Mahendra Bohra and Belvie Productions.
Financed by Jitendra Gulati
Directed by Lalit Mohan
Starring: Karanvir Bohra, Priya Banerjee and Sameer Kochar, Dhruv , Ananya.
" HUME TUMSE PYAAR KITNA ", The film about obsession,Infatuation and Limerence of Dhruv's state of mind which results from a romantic attraction to Ananya.