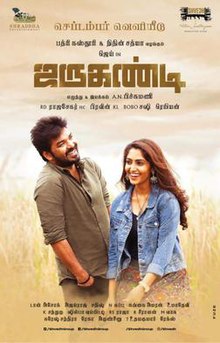 "Jarugnadi" This is an action film laced with sentiments and humour.
Starring: Jai Reba Monica John Robo Shankar Daniel Pope Illavarasu Bose venkat Amith Kumar Thiwari Jayakumar G.M Kumar Kaavya Sha
Written & Directed by A.N.Pitchumani
Producers : Nitin Sathyaa (Shvedh – A Nitin Sathyaa Production House) , Badri Kasturi (Shraddha Entertainment) Director : A.N.Pitchumani
D.O.P : R D Rajasekar ISC
Music : BoBo Shashi
Editor : Praveen K L
Art Director : Remiyan
Fight Master : Don Ashok
Choreography : AjayRaaj, Sathish
Lyrics : Gangai Amaren, Umadevi, K.Chandru, A.N.Pitchumani Costume Designer : Shilpa Vummiti Stills : RS Raja
Synopsis: A middle-class guy who aspires to make it big. How he gets out of a web of situation is what the film is about.