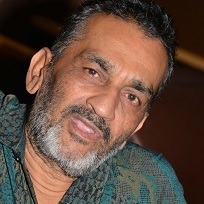 K. V. Raju Director is an Indian screenwriter, dialogue writer and director,
Predominantly in Kannada film industry.
His Debut was in industry (1982) as an associate director to K. V. Jayaram on his movie, Baadada Hoo.
Raju made his debut as a independent writer and director : Olave Baduku (1984).
Later on Sangrama (1987)
Bandha Muktha (1987)
Navabharata (1988)
Yuddhakanda (1989)
Indrajit (1989)
Sundara Kanda (1991)
Police Lockup (1992)
Abhijeet (1993)
Yuddha (1997)
Prema Rajya (2001)
Rashtra Geethe (2001)
Nija (2004)
In Hindi :
Indrajeet (1991)
Udhaar Ki Zindagi (1994)
As Writer
story, screenplay and dialogues of the action-drama, Tiger Galli (2017) . The movie is directed by Ravi Srivatsa and has Sathish Ninasam, Bhavana Rao and Roshni Prakash in important roles.