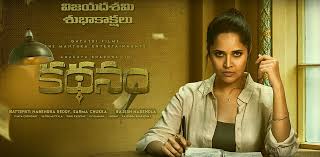 Kathanam- Telugu Mystery Thriller Film
Directed by Rajesh Nadendla.
Produced by Battepati Narendra Reddy and Sarma Chukka.
Starring: Anasuya Bharadwaj, Srinivas Avasarala, Dhanraj and Vennela Kishore. Music by Sunil Kashyap.
Anasuya plays an assistant director who gets suspected as the culprit in a murder, as all the proceedings take place according to her penned script for a feature film.