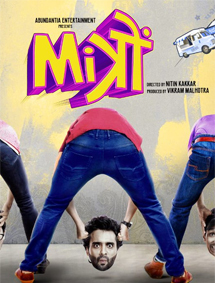 Mitron – Hindi (Bollywood) Film,
A love story set up in the Gujarati milieu of a couple as different as chalk and cheese. Jay, born and brought up with middle class values and upbringing, keeps an 'unrestrained' and 'take it easy' approach to life. He does not want to go behind the herd mentality and aims of becoming a chef. Seein
g his free and easy approach, his father decides to bring stability in his life, thus plans to get him married. But destiny has something else in store. He accidently meets Avni, an ambitious, MBA graduate and strong headed girl.
Initial release: 
14 September 2018 
Producer: 
Vikram Malhotra
Screenplay: 
Tharun Bhascker Dhaassyam, Sharib Hashmi
Music director: 
Yo Yo Honey Singh, Tanishk Bagchi, Toshi Sabri, Sharib Sabri, Abhishek Nailwal, Sameer Uddin