"Mookavismitha" – Indian, Kannada language Family Drama film
SCREENPLAY, DIALOGUES, LYRICS & DIRECTION: GURUDUTT SREEKANTH.
VFX, DI & EDITOR: SANTOSH R CHAWLA.
MUSIC: DR CHINMAYA M RAO.
STARRING: SANDEEP MALANI , GURUDUTT SREEKANTH , CHANDRA KEERTHI, VANISHREE BHATT , SHUBHA RAKSHA , MAVALLI KARTHIC , RAJESH S RAO , PUSHPA RAGHAVENDRA, DR KRUPA, D SREEKANTH , SURAJ PANDITH , CHIDANAND KULKARNI
CAMERA: SIDDU GS.
BACKGROUND SCORE: VIJAY RAJ, KIRAN SHANKAR.
ASSOCIATE DIRECTOR & SCREENPLAY ASST: RAKESH NAYAK, SRIKANTH DAALDUR.
ASSISTANT DIRECTORS: SURAJ PANDITH, MAVALLI KARTHIK, SWAMYNATHAN
SONG MIXING, MASTERING & SFX – JIM JOHN
SOUND & SORROUND MIXING ENGINEER – KIRAN SHANKAR
ART: PARAM (MANJU)
VEENA: MAHESH PRASAD, MELODIKA DHANAJAY KULKARNI
VIOLIN: PRANAV
PLAYBACK SINGERS: SIDHARTH BELMANNU, SURABHI SRIHARI VASISHT, SATTVIK CHAKRAVARTHY, DR CHINMAYA M RAO
DUBBING & PROGRAMING PUNITH M R
PRO: NAGENDRA
Review :
Written By – Aurobindo
T.P.Kailasam, known as "Prahasana Pitamaha" (The King of Satire) in Kannada literature has given umpteen stories which linger on in the readers' mind for a long time. One such memorable play is: "Tollu Gatti" written in the 1920s and apparently no known major work has happened in the past to bring this story alive on screen.
That's what precisely the makers of "Mookavismitha" attempt to do and hats off to their effort in bringing it alive on screen. The characters of Hiriyanna, Bhaagi, Puttu, Maadhu, Saatu, Paatu, Naagu are so alive on screen that you can actually feel their presence amidst you when you see the film.
A special word of appreciation to the director of the film – Gurudath Shreekant – for his commendable, dedicated effort: both on screen and off screen. On screen he appears as Himself – a movie maker trying to make this film and another character, which you will have to see the film to understand. Off screen, the title card reads: Concept, Screenplay, Dialogs, Lyrics and Direction. Quite a feat!
Chinmaya M Rao deserves full marks for soulful music to the film. Though there are just 4 songs to be precise… His BGM, orchestra and soulful tunes tug at the audience heart strings for sure. Personally "Rama Namave.." song stands out and stays fresh in one's memory. In these days of digital music clutter where you barely remember what you heard 20-minutes ago – to even attempt to compose and deliver a classical-based song is highly remarkable and praise-worthy.
Santosh Chawla deserves another special mention as the editor of this film. Considering that this film's narrative is non-linear and transcends timelines – past and present – multiple times – the job of an editor is especially difficult to hold the thread that weaves the narration so as not to lose focus. His effort as an expert editor is clearly shown there.
Performance wise, Vanishree Bhatt as one of the daughter-in-law of Hiriyanna comes alive on screen in all the scenes she appears. That too in both "Avatars" – The modern and the traditional. She does full justice to her role as a docile, subdued and obedient wife and daughter-in-law. Both the artistes who play the roles of Puttu and Maadhu (Mavalli Karthik and Chandra Keerthi) are very apt in their roles – costumes, body language, and dialog delivery. The two senior ladies who essay the roles of Bhagirathi (wife of Hiriyanna) and Nagu (widowed sister of Hiriyanna) – Pushpa Raghavendra and Krupa Prahalad have been brilliant in their respective roles: Their subdued body language, the pain, the anguish. Shubha Raksha as the eldest daughter-in-law deserves a mention for her presence as well. She stands her own ground firmly amidst all the artistes around her.
Lastly, the film actually belongs to Hiriyanna essayed with absolute arrogance of a traditional Havyaka Brahmana of 1950s, Sandeep Malani is just mind-blowing. His demeanor, his stiff body language, his skewed view of his family members, the snigger toward his younger son, his blind belief on his elder son, his shallow thoughts about his wife or his daughters-in-law, his visible social embarrassment of having became a father at a ripe age of 55 are on full display. He does full justice to the role: Be it dialog delivery, screen presence and overall effort of bringing the character of Hiriyanna alive on screen. Sandeep Malani shows what experience can bring to a movie by just being there and carrying the load of the movie on his experienced shoulders on screen as well.
Overall review: Instead of just adapting "Tollu Gatti" on screen and bringing it alive, the director Gurudath Shreekanth has attempted to weave the contemporary aspect of it as well. To even conceptualize a movie within a movie and yet keep track of it without losing focus or the audience attention is no mean feat. That too, this gentleman has made it all happen in his first movie. The language, the expressions of a typical Kannada Brahmin household, the articles in the house or the house itself – is so beautifully brought alive on screen – you can almost feel the cold Red Oxide floor beneath your feet.
While at times in the beginning and toward the intermission, something's don't make sense – it is a deliberate attempt to keep the suspense alive till the end where it is revealed and all loose ends are beautifully tied together as the end credit rolls.
All in all, a commendable team effort by the whole crew of "Mookavismitha" and congratulations to the makers who believed that such a movie can be brought alive 80-years later for the younger generations to see the genius of TP Kailasam.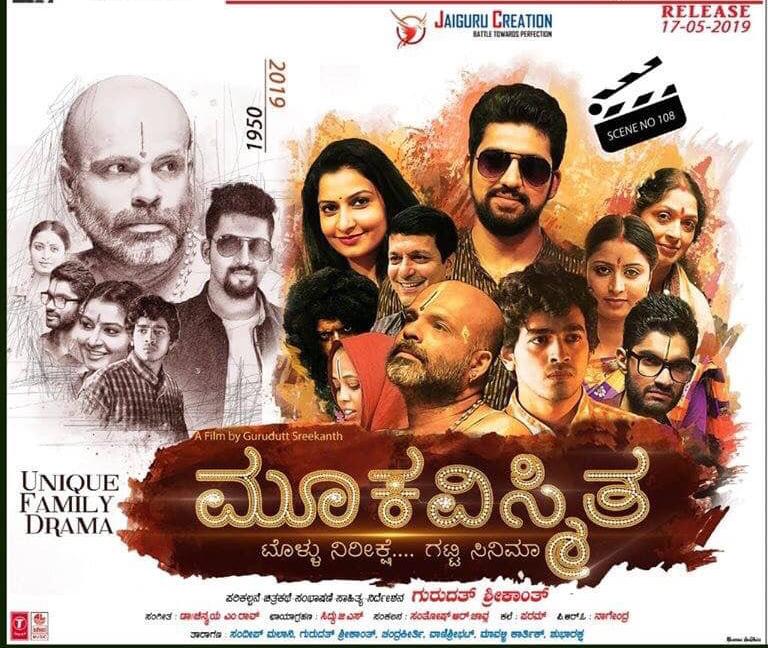 [post_gallery]
Click the below link to see more pic
https://drive.google.com/open?id=1mlEfcKzS798NNRIVNF72P86KcbmfWsKn