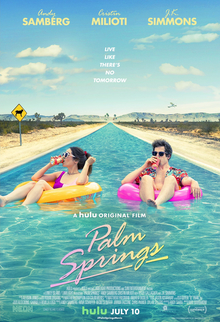 Palm Springs (A) English Romantic Comedy Film Duration : 1h 30m
Stuck in a time loop, two wedding guests develop a budding romance while living the same day over and over again.
Music by: Matthew Compton
Story by: Andy Siara; Max Barbakow
Produced by: Andy Samberg; Akiva Schaffer; Becky Sloviter; Jorma Taccone; Chris Parker; Dylan Sellers
Production; companies: Limelight Productions; Lonely Island Classics; Sun Entertainment; FilmNation Entertainment
ABOUT PALM SPRINGS
When carefree Nyles (Andy Samberg) and reluctant maid of honor Sarah (Cristin Milioti) have a chance encounter at a Palm Springs wedding, things get complicated when they find themselves unable to escape the venue, themselves, or each other.
The film stars Andy Samberg, Cristin Milioti, J.K. Simmons, Meredith Hagner, Camila Mendes, Tyler Hoechlin, and Peter Gallagher.
PALM SPRINGS is directed by Max Barbakow and written by Andy Siara. The film is produced by Andy Samberg, Becky Sloviter, Akiva Schaffer, Jorma Taccone, Dylan Sellers, and Chris Parker, and Gabby Revilla Lugo serves as executive producer. The film is produced by Limelight and Lonely Island Classics with Neon serving as the theatrical distributor.