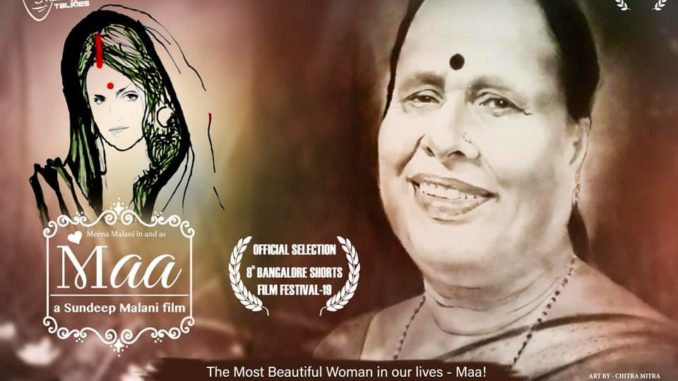 Sandeep Malani's Double Bonanza at 8th BSFF 19
Award filmmaker Sandeep Malani's films have always been a film festivals delight as his films have been screened at various film festivals across the globe. Be it the film based on HIV Aids Jo Jo Laali, women empowerment Sulige Sikkidaaga, homosexuality Shaayad, or even to the musical tribute to Sridevi and Yashraj.

Adding on to this list is Malani's latest film on mothers sentiment titled 'Maa' (Hindi); shot entirely on an iPhone 6s is now been officially Selected as an Festival entry at the prestigious 8th BSFF (Bangalore Shorts Film Festival 2019)
And making its first ever premiere is the Kannada film 'Nishyabda Nishi' (aka Silent Night) being directed by Silver Malani is also an official entry to the festival.
Nishyabda Nishi (15 mins) is about an retired school teacher who gets into the character of not only the teacher but also a child, an old man and students (with being split personality) and takes classes to students only at Night. There is a humor to the character and a disturbing fact which is revealed at the end. Sandeep Malani, plays the only character in this unique short film, with background score by Veer Samarth, edit by Vignesh Thanupillai and the camera and direction by Silver Malani.
Maa' features Meena Malani, Sanjukta Ghosh, Ranjeet Jha, Bharath Lakshmikanth, Mahesh Dulam, Akash Hora, Shivam Kataria, Anitha Dulam, Silver Malani, Aditi & Sriman Dulam, Velu Murugan and others. Music by Prajoth Dsa, Karthik Venkatesh and Nitin, edit by Santosh Chawla, the film is directed by Sandeep Malani.
Maa and Silent Night, both are Malani Talkies productions and it is scheduled to be screened at BSFF 2019 on 9th June at Hotel Tulip Inn, Bangalore. This festival is organised by Mini Box Office Productions.
[post_gallery]