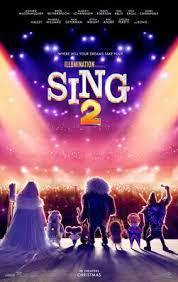 Sing 2 (U) – English Animation Comedy Musical Movie – Releasing on 31 Dec, 2021 – Duration 1 h 50 m
Written and directed by acclaimed returning filmmaker Garth Jennings and features additional new characters played by music superstar Pharrell Williams, Black Panther's Letitia Wright and comedians Eric Andre and Chelsea Peretti.
The film is produced by Illumination founder and CEO Chris Meledandri and by Janet Healy. Sing 2 combines dozens of classic rock and pop hit songs, electrifying performances, breathtaking artistry and Illumination's signature humor and heart into the definitive feel-good cinematic event of the year.
Rating: 5* – Out Standing, 4.5* Very Very Good, 4* Very Good, 3.5* Good, 3* Above Average , 2.5* Average, 2* Below average, 1* Poor.