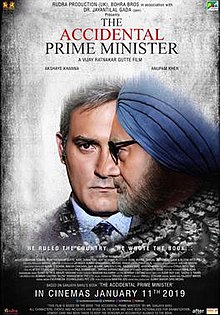 "The Accidental Prime Minister" Indian (Hindi) Biographical Film It is based on the Book with the same nameby Mr. Sanjaya Baru.
Production : Rudra Productions (UK), Bohra Bros in association with Dr. Jayantilal Gada (pen) present The Accidental Prime Minister.
Produced by Sunil Bohra, Dhaval Jayantilal Gada & Bloom Arts Pte Ltd. Directed by – Vijay Ratnakar Gutte
Starring – Anupam Kher, Akshaye Khanna, Suzanne Bernert, Aahana Kumra, Arjun Mathur, Vipin Sharma and Divya Sethi.
Written by – Mayank Tewari, Vijay Ratnakar Gutte, Karl Dunne (UK), Aditya Sinha
Co Producer – Jatinder Kumar Bharadwaj, Ashoke Pandit
Editor – Praveen KNL
Director Of Photography – Sachin Krishn DI & VFX – After Studios (UK) Music Director – Sudip Roy (UK), Sadhu S Tiwari