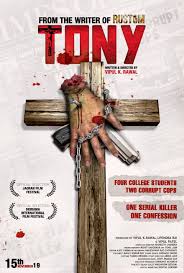 Tony(U/A) – Hindi Thriller Drama Film.
Tony is written and directed by Vipul K. Rawal
Produced by Vipul K. Rawal and Manoj Srivastava.
Starring: Yashodhan Rana , Akshay Verma , Jinal Belani , Manoj Chandila , Mahesh Jilowa, Dhruv Souran , Kabeer Chilwal
Associate Producer : Manoj Srivastava
Cinematography by Mohit Kakodkar
Film Editing by Ajay Varma
Sound by Subash Sahoo
Tony is a story of four psychology students plant a camera in a church's confession box and come across a serial killer confessing to murder to the priest. Life takes a bizarre turn when they meet TONY, the serial killer and go on a murdering spree with him.