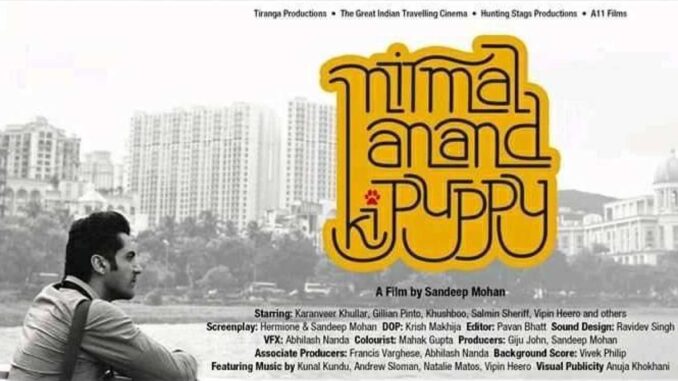 Nirmal Anand Ki Puppy (U) – Comedy Drama Film in Hindi
Director: Sandeep Mohan
Screenplay: Sandeep Mohan
Cast: Karanveer Khullar, Gillian Pinto, Khushboo Upadhyay, Salmin Sheriff, Vipin Heero, Beaula Knauf, Avinash Kuri, Prashen Kyawal, Safoon Farooque Sayyed, Naina Sareen, Rukshana Tabassum, Ashwani Kumar, Bhavaish Bhatijaa, Ruchita Tahiliani, Micky Makhija, Jack Jigg, Ajay Srivastava, Jyoti Singh, Rakesh Suhanda, Anaya Mukherjee, Hermione and Ashwin Mushran (special appearance)
Producers: Giju John, Sandeep Mohan
Associate Producers: Francis Varghese, Abhilash Nanda
DOP: Krish Makhija
Editor: Pavan Bhat
Screenplay: Sandeep Mohan & Hermione
Trailer Edit: Shreyas Beltangdy
Background Score:Vivek Philip
Colorist: Mahak Gupta(Bridge Postworks)
Sound Design: Ravidev Singh
Sound Mix: Anmol Bhave
VFX: Abhilash Nanda
Location Sound: Ankur Chaudary
Featuring Music : Kunal Kundu, Andrew Sloman, Natalie Matos, Mohit Salgaonkar, Vipin Heero, Dr. Prem Bhandary, and others
Assistant Directors: Aman Shukla, Manish Chandwani, Nikita Salve
Awards: 'Nirmal Anand ki Puppy' has recently won the Best Screenplay Award at the DCSAFF Film Fest in Washington DC. The Film also won the Audience Choice Award for the Best Film and the Indic Filmutsav Festival.
Rating: 5* – Out Standing, 4.5* Very Very Good, 4* Very Good, 3.5* Good, 3* Above Average , 2.5* Average, 2* Below average, 1* Poor.