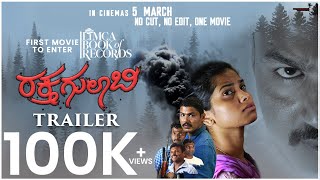 Raktha Gulabi
Production: Machinekad Films
Written and Directed: RaBi
Male lead: Vikramaditya
Female lead: Shivani
Music Director: Prajoth D'Sa
Singers: Sparsha R K, Prasanna Kumar M S
Lyrics: Praveen Kumar Jappinamogaru
VFX and Colorist: Musasizi Paul
Editor: Vijay Kumar
DOP: Raavanan
Production manager: Bharath A V
Synopsis: The so-called law-abiding society made him a Rebel to find justice,
once justice is sought and loved dragged him back for a normal life, the return journey was not easy. He is stuck with the world he fought against and the world he chose, there is no mercy, no rules in this war of life. Whether he saves his love?
whether he finds his dream life?
Rating: 5* – Out Standing, 4.5* Very Very Good, 4* Very Good, 3.5* Good, 3* Above Average , 2.5* Average, 2* Below average, 1* Poor.