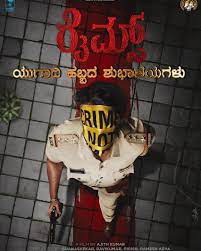 Rhymes (U/A) – Kannada Psychologocal Thriller Film – Duration 2 h 1 min
Starring: Ajith Jayaraj, Shubha poonja, Sushma Nair, Abhinaya, Mimicry gopi, Aparna, Channaraju.
Production House: Square Concepts Productions.
Producers: Gnanashekar Siddaiah, Ravi Kumar, Girish, Ramesh Arya.
Written and Directed: Ajith Kumar J.
Music Director: Sakthi Sak
Cinematography: Arjun Accot.
Editor: Santhosh T.
Dialogues: Ajith Kumar J, VJ Deepak and Vasundhara.
Associate Director: MS Anthony Dinesh & NK Gangadhara Thuvijat.
Assistant Directors: Sai Teja Reddy, Dilip Kumar, Yuvaraju Embiri, Akshay Ram, Prashanth Melvin.
Art Director: Kishan Kishu.
SFX: Madhan Light house.
DI Colourist: Prajwal Raj.
DI Conformist: Sathyajith Siddakatte
Audiography: Dinesh Murugesan
Pre-mix Engineer: Joshy alex Thomas
Dubbing Engineer: K Lokesh & Joshy alex Thomas
Post Production: Santhosh K (Lighthouse Media)
Executive Producer: Raghavendra.
Production Designer: Ajay AJ.
Publicity Designs: Abhishek (Story Teller) and Chethan (MMM Groups)
Marketed by: Enroute Media & Entertainment.
PRO: Nagendra.