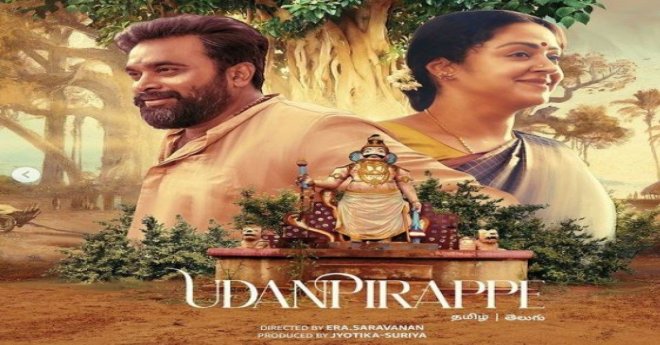 Udanpirappe (U) Tamil Film – Duration 2h 18m
Music director: D. Imman
Editor: Ruben
Production company: 2D Entertainment
Producers: Jyothika,
Written & Directed by Era. Saravanan
Director of Photography – R. Velraj ISC
Art Director – Mujibur Rahmaan
Stunt – Super Subbaraayan, Dhilip Subbaraayan
Lyrics – Yugabharathi, Snekan
Costume Designer – Poornima Ramaswamy
Sound Mix – T. Udhay Kumar
Sound Design – Sachin Sudhakaran
Makeup – Giri
Costumer – Arun
VFX – Knack Studios
Colorist – K. S. Rajasekaran
Production Supervisor – S. Karthikeyan
Stills – Saravanan
PRO – Yuvraaj
Designs – Kabilan
Trailer & Promo Cut – T. Shivanandheeswaran
Teaser Cut – Nash
Chief Production Controller – B. Senthil Kumar
Co-Producer – Rajsekar Karpoorasundarapandian .
A woman tries to establish peace in her family when her husband and her brother have an intense difference of opinion over the efficacy of the justice system.