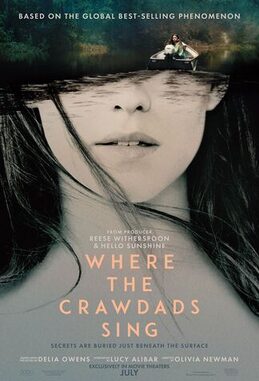 Where The Crawdads Sing (A) English Drama / Mystery / Thriller Movie – Duration 2 H 5 Min
Crawdads Sing stars Daisy Edgar-Jones (Normal People) as "Kya Clark," Taylor John Smith (Sharp Objects) as "Tate Walker," Harris Dickinson (The King's Man) as "Chase Andrews," Michael Hyatt (Snowfall) as "Mabel," Sterling Macer, Jr. (Double Down) as "Jumpin'," and David Strathairn (Nomadland) as "Tom Milton." Olivia Newman (First Match) directs the screenplay by Lucy Alibar (Beasts of the Southern Wild) based upon the novel by Delia Owens. The 3000 Pictures film is being produced by Reese Witherspoon and Lauren Neustadter.
Rating: 5* – Out Standing, 4.5* Very Very Good, 4* Very Good, 3.5* Good, 3* Above Average , 2.5* Average, 2* Below average, 1* Poor.