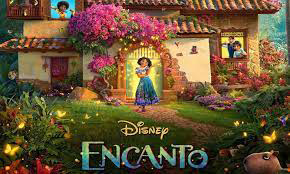 Encanto – English Musical/Comedy Movie – Duration 1h 49m – Rating 4*
The Madrigals are an extraordinary family who live hidden in the mountains of Colombia in a charmed place called the Encanto. The magic of the Encanto has blessed every child in the family with a unique gift — every child except Mirabel. However, she soon may be the Madrigals last hope when she dis… MORE
Directors: Byron Howard, Jared Bush
Music by: Germaine Franco
Story by: Jared Bush; Charise Castro Smith; Byron Howard; Jason Hand; Nancy Kruse; Lin-Manuel Miranda
Production companies: Walt Disney Pictures; Walt Disney Animation Studios
Walt Disney Animation Studios' upcoming feature film "Encanto" tells the tale of the Madrigals, an extraordinary family who live in a wondrous, charmed place called an Encanto. Each child has been blessed with a magic gift unique to them—each child except Mirabel. But when the family's home is threatened, Mirabel may be their only hope.
The voice cast includes Stephanie Beatriz as Mirabel; María Cecilia Botero as Mirabel's grandmother Alma aka Abuela; John Leguizamo as Bruno; Angie Cepeda and Wilmer Valderrama as Mirabel's parents, Julieta and Agustín; and Diane Guererro and Jessica Darrow as Mirabel's sisters, Isabela and Luisa. Also lending their voices are Carolina Gaitán and Mauro Castillo as Mirabel's aunt and uncle, Pepa and Félix; and Adassa, Rhenzy Feliz and Ravi Cabot-Conyers as Mirabel's cousins Dolores, Camilo and Antonio, respectively.
The film features all-new songs by Lin-Manuel Miranda ("Hamilton," "Moana") and is directed by Byron Howard ("Zootopia," "Tangled") and Jared Bush (co-director "Zootopia"), co-directed by Charise Castro Smith (writer "The Death of Eva Sofia Valdez") and produced by Clark Spencer and Yvett Merino. Bush and Castro Smith are screenwriters on the film.Walt Disney Animation Studios'