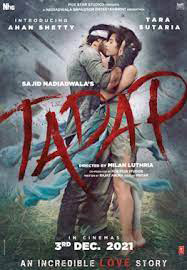 Tadap (U/A) Hindi Drama/Thriller Film – Duration 2h 40m
Director: Milan Luthria
Based on: RX100 (2018); by Ajay Bhupathi
Written by: Rajat Arora
Produced by: Sajid Nadiadwala; Fox Star Studios
Presented & Co produced by Fox Star Studios
Lyricist – Irshad Kamil
Music By Pritam
Music on T-series
Based in Mussoorie, Uttarakhand, Ishana meets foreign returned Ramisa. As their passionate romance brews, Ishana falls madly in love with her, but things turn out differently. What seemed to be a straightforward relationship gets hit by the most unexpected storm. Nothing seems to be going right for the star crossed lovers. When things seem almost overwhelming in their finality, Ishana has one more draconian hurdle thrown his way. How he copes with it forms the soul of this incredible love story.
Rating: 5* – Out Standing, 4.5* Very Very Good, 4* Very Good, 3.5* Good, 3* Above Average , 2.5* Average, 2* Below average, 1* Poor.