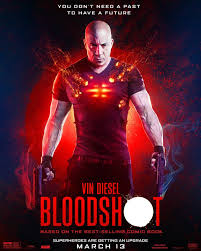 Bloodshot English Drama/Fantasy Film – Duration 1 Hour 50m
Director: David S. F. Wilson
Production companies: Original Film, Columbia Pictures, Cross Creek Pictures, One Race Films, Polybona Films
Producers: Vin Diesel, Neal H. Moritz
Screenplay: Eric Heisserer, Jeff Wadlow
DescriptionAfter he and his wife are murdered, marine Ray Garrison is resurrected by a team of scientists. Enhanced with nanotechnology, he becomes a superhuman, biotech killing machine – Bloodshot. As Ray first trains with fellow super-soldiers, he cannot recall anything from his former life.