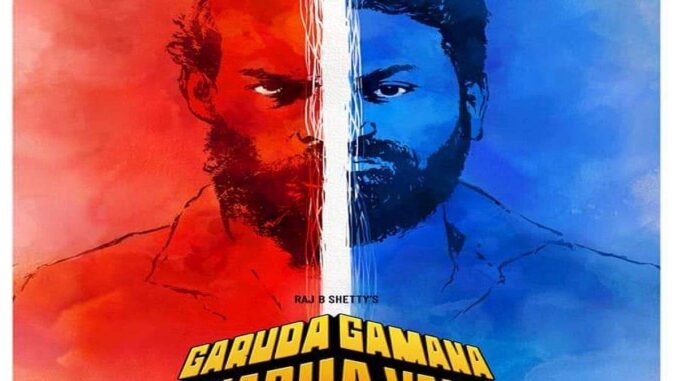 Garuda Gamana Vrishabha Vahana (A) Kannada Gangster Drama Film – Released on 19th Nov 2021 – Duration 2h 31m
Written and directed by an actor-director Raj B. Shetty.
Produced by Ravi rai Kalasa and Vachan Shetty
Banner Lighter Buddha Films.
A KRG Studios Release
Starring : Raj B Shetty I Rishab Shetty
DOP & Editor : Praveen Shriyan
Music / Background Score : Midhun Mukundan
Sound Design : Sync Cinemas
5.1 Mixing By : Aravind Menon
Trailer Mixed & Mastered By : Hriday Goswami
Makeup : Ronex Xavier
Executive Producer : Shamil S Bangera, Arpith Adyar
Line Producer : Vijaya Kumar Shetty
Makeup assistants : Suresh, Omanakuttan, Sudheesh
Sync Sound : Adarsh Joseph Palamattam, Mohammad Sajid
Costume Department : Shravan Bhandary, Rohith Shetty, Nikhil Amin
Art Department : Rajesh Kolake, Vikram Devadiga, Kishor Kulal, Abhishek Shetty Kaup, Praveen & Team Bangalore
Associate Directors : Suhan Prasad, Chethak Kulal, Basil Abdul Latheef, Shanil Guru
Assistant Directors : Binu Balakrishnan, Rohith Shetty, Anchan Sachin, Nikhil P Amin
Artist Co-ordinator : Anchan Sachin
Making : Sanjay
Associates Cinematographers : Pradeep B Reddy, Madhu Kanta Swamy BN, Jacob Johnson
Production : Lathish Neel, Deekshith kulal, Deekshith Kaup, Naveen Shetty, Vinayak acharya, Nithin Shetty, Uday kumar Shetty
Rating: 5* – Out Standing, 4.5* Very Very Good, 4* Very Good, 3.5* Good, 3* Above Average , 2.5* Average, 2* Below average, 1* Poor.