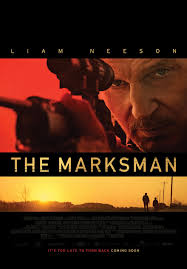 The Marksman (U/A) – Action/Thriller Movie , Duration : 1h 48m
Director: Robert Lorenz
Screenplay: Robert Lorenz, Danny Kravitz, Chris Charles
Producers: Robert Lorenz, Tai Duncan, Warren T. Goz, Eric Gold, Mark Williams
Jim is a former Marine who lives a solitary life as a rancher along the Arizona-Mexican border. But his peaceful existence soon comes crashing down when he tries to protect a boy on the run from members of a vicious cartel.
Rating: 5* – Out Standing, 4.5* Very Very Good, 4* Very Good, 3.5* Good, 3* Above Average , 2.5* Average, 2* Below average, 1* Poor.